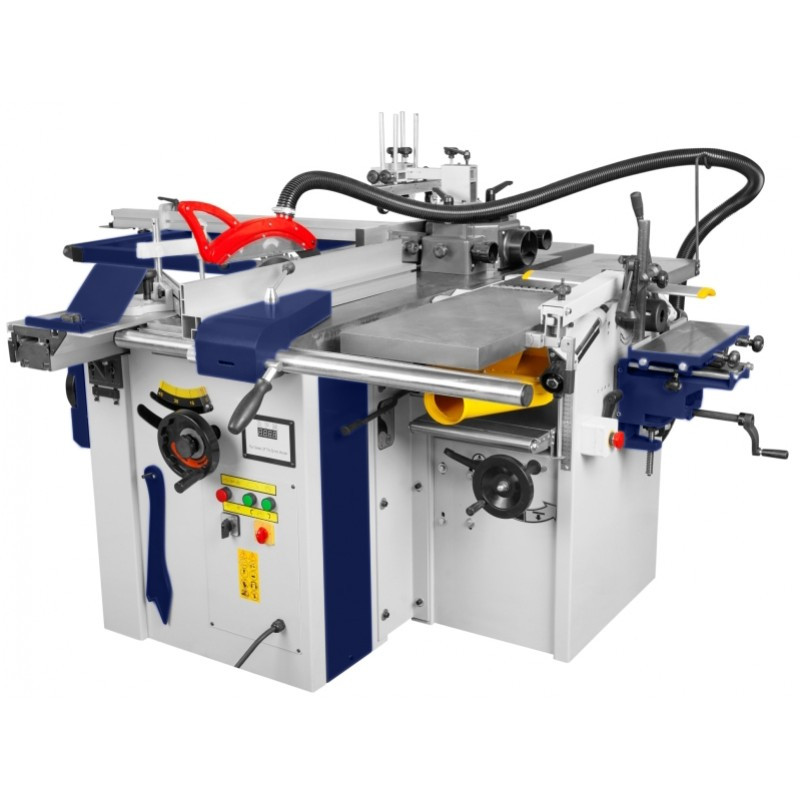 Многофункциональный станок CORMAK C5310
Условия оплаты и доставки
График работы
Адрес и контакты
Machine characteristics
A multifunctional machine for wood working is an ideal integration of a planing machine, a circular sawing machine, a milling machine and a thicknessing machine, securing a broad range of possibilities. Applying 3 motors mounted on a robust, solid and compact construction secures comfort and failure-free work.
CIRCULAR SAWING MACHINE: with a tilt spindle enables cutting-off high density boards, MDF plates, ABS and PVC panels, solid wood and other wood-based materials.

PLANING MACHINE – THICKNESSING MACHINE: four cutters rotating at a speed of 4000 rpm enable obtaining very smooth surfaces, a controlled strip enables angular planing. During use of the thicknessing machine the work tables can be dismantled.

MILLING - DRILLING MACHINE: a moved out spindle 30 mm rotates at a speed of 8500 rpm. In the guard upper side a mechanism supporting the worked material is installed.
Technical data
Planing-thicknessing machine
MOTOR

2200 W

SURFACER TABLE DIMENSIONS

310x1600 mm

THICKNESSER TABLE DIMENSIONS

310x750 mm

CUTTER SHAFT DIAMETER

95 mm

FEED SHAFT DIAMETER

40mm

NUMBER OF CUTTERS

4

CULAGA ANGLE

0~45°

MAX. SURFACER CUTTING DEPTH

5 mm

MAX. PLANING HEIGHT

220 mm

CUTTER SHAFT REVOLUTIONS 50Hz/60Hz

4000/4800 rpm

FEED SPEED 50Hz/60Hz

6/7,2 m/min

Dimension saw

MAIN SAW-BLADE DISK DIMENSIONS

315x30x3 mm

MAIN SAW-BLADE DISK SPEED

4500 rpm

UNDERCUTTER DISK DIMENSIONS

90x20x3 mm

UNDERCUTTER DISK SPEED

8500 rpm

CUTTING HEIGHT AT 90°

100 mm

CUTTING HEIGHT AT 45°

80 mm

MAIN TABLE DIMENSIONS

1650x380 mm

TRAVELLING PANEL DIMENSIONS

270x2600 mm

TRANSVERSE CUTTING TABLE DIMENSIONS

880x580 mm

MAXIMAL CUTTING WIDTH

620 mm

MAXIMAL CUTTING LENGTH

2000 mm

Low-spindle milling machine

SPINDLE DIAMETER

30 mm

SPINDLE TRAVELLING

100 mm

SPINDLE SPEEDS

1800/3000/6000/9000 rpm

TABLE DIMENSIONS

1650x380 mm

MAX. TOOL DIMENSIONS

200mm

CULAGA ANGLE

45°-90°

Machine general parameters

DIMENSIONS

2060x320x250 mm

WEIGHT

800 kg