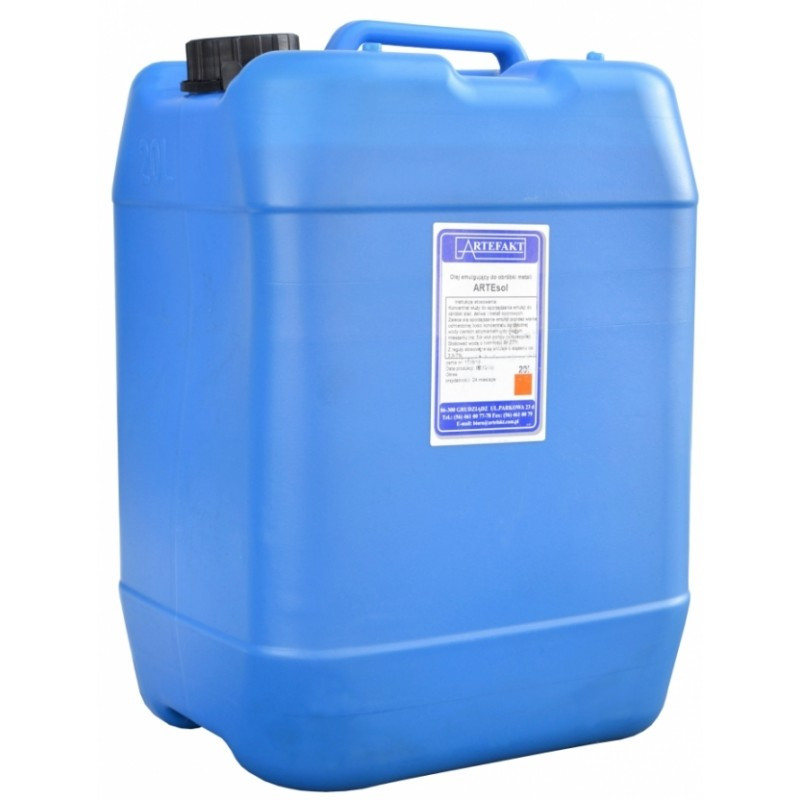 Масло EP 20L
Условия оплаты и доставки
График работы
Адрес и контакты
Characteristics
ARTEsol SUPER EP is working oil concentrate designed for preparation of emulsions for rolling, other plastic working processes and metals machining. It does not cause formation of nitroamines . The concentrate is made on the base of highly refined mineral oils. It does not contain chlorine compounds, secondary amines, boron compounds and sodium nitrate. The ARTESOL oil for metals machining is produced on the base of highly refined mineral oil, ionic and non-ionic emulsifiers, corrosion inhibitors and other enriching substances. The Emulgol ARTESOl oil does not contain: nitrites, chlorine, heavy metals and phenols. When mixed with water forms white odour-free milk.
Use
The Emulgol ARTESOL oil in a form of cooling-lubricating water emulsion is used during steel, cast iron, non-ferrous metals and their alloys machining. The recommended emulsion working concentrations of the emulsion based on Emulgol ARTESOL (prepared in water of general hardness up to 15°N) depending on machining type and machined material are: grinding 3 – 5 %, turning, milling, drilling, reaming 5 – 10%, threading 10 – 15%. ARTEsol is a concentrate of cooling-lubricating liquids designed for various types of working (sheets rolling, drawing and other plastic working and machining processes) and a broad range of metals (cast iron, steel including hard machining steel as well as non-ferrous metals). The concentration for a given use is selected by tests. In principle concentration below 3.5% is not recommended. As a rule the 4 ±5% concentration is used for most types of working. Increase of the emulsion concentration improves quality of the worked surface and effectiveness of protection against corrosion and can cause reduction of friction in plastic working as well as extending of working tools life. In the stamping process are used emulsions from 2% concentration (the 2% concentration is enough for stamping e.g. roofing-tile sheet). The emulsions are prepared by the concentrate pouring with a thin stream into cold or lukewarm water of up to 20oN hardness during continuous stirring (as a rule it is enough to pour concentrate with a thin stream during water circulation in a machine, the best into the circulating pump inlet). Do not prepare the concentrate solutions of concentration higher than 20%. It is possible to prepare emulsion with injectors. Check the concentration with a refractometer. The refractive index is approx. 1.05.
Properties
The emulsions on the base of ARTEsol are stable, do not precipitate deposits and a thickened phase even after a long period of use. In many cases (if the emulsion stable concentration is kept and if a circulation system is equipped with filters excluding accumulation of emulsion impurities) it is possible to use them longer than a year without replacement. It is recommended to use the oil in all band cutting-off machines, turning lathes, drilling machines, milling machines etc. The ARTESOL emulsifiable oil is used in a form of water cooling-lubricating emulsion during steel, cast iron and non-ferrous metals and their alloys machining. The recommended emulsion concentrations: 5 – 15% in water of up to 15oN hardness.
Advantages of oil use:
maintaining suitable temperature in cutting, drilling processes;
chips removal;
lubrication causing the reduction of frictional resistances.
Technical data
Concentrate

APPEARANCE AT TEMPERATURE OF 20°C

clear, homogenous, amber colour liquid

FLOW TEMPERATURE

12°C

KINEMATIC VISCOSITY AT TEMPERATURE OF40°C

30,5 mm2/s

5% emulsion in water of 150N hardness

EMULSION APPEARANCE AT TEMPERATURE OF 20°C

milk emulsion

CAPABILITY OF ANTICORROSION PROTECTION BY HERBERT'S METHODS

H0

PH

9,1

REFRACTOMETRIC INDEX AT TEMP. OF 20°C

1,44

EMULSION STABILITY DURING 24h/20±50C

retained
Дополнительные характеристики
Состояние
Новое