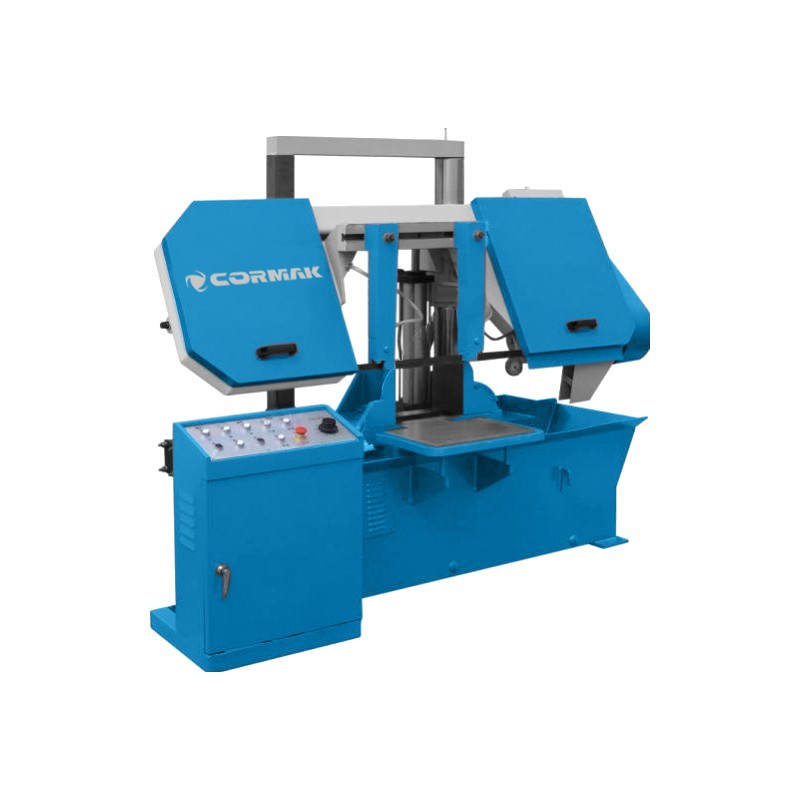 Полуавтоматическая ленточная пила CORMAK H-50/70
Условия оплаты и доставки
График работы
Адрес и контакты
Machine characteristics
The column band-saws are characterized by the construction higher rigidity during cutting and quite different arm and band guiding technology in comparison with pin and shear machines what considerably shortens cutting time i.e. the machine working time and enables suitable selection of operation parameters and reduces unit cutting costs. Whereas the guiding of the COLUMN band-saw cutting arm is more rigid and stable.
The COLUMN band-saws we recommend in particular for solid hard and heavy-machined materials where a high cutting accuracy is required. In the column band-saws the arm with cutting band is moved up and down by means of a hydraulic cylinder the chromium plated piston of which is a guiding column.
The cutting band is inclined at an angle of 3o in relation to the cut-off machine table. In semi-automatic band-saws after switch is on, the whole cutting cycle i.e. clamping of the cut material in a hydraulic vice, switching on the cutting band feed, lowering the cutting arm (controlled speed), the machine stopping after executed cutting, the arm raising up (controlled arm raising height) and switching off the hydraulic vice are automatic. The cutting machine massive arm made of homogeneous iron casting together with use of 41 mm wide cutting band in this band-saw enable in full cutting of profiles as well as solid materials.
This model is a highly productive machine of robust construction. It enables cutting of a broad range of materials including stainless and tool steel, solid materials and profiles.

Type: column semi-automatic
Control: control panel at machine front
Maximum cutting diameter: ø 500, 700 x 500 mm
Arm raising: hydraulic
Arm lowering: hydraulic
Band speed: od 26/41/60 m/min.
Vice: hydraulic
Technical data
| | |
| --- | --- |
| MINIMUM CUTTING DIAMETER | ø5 mm |
| MINIMUM MATERIAL LENGTH IN VICE | 30 mm |
| VICE BASE DISTANCE FROM GROUND | 780 mm |
| CUTTING BAND DIMENSIONS | 6360 × 41 × 1.1 mm |
| TOTAL POWER | 5.5 kW |
| BAND SPEED | 26/41/60 m·min-1 |
| DIMENSIONS (L x W x H) | 3300 × 1350 × 1700 mm |
| WEIGHT | 2900 kg |
Standard equipment
Semi-automatic working cycle
Control console on separate pedestal
Built-in hydraulic unit
Arm movement hydraulic control (up – down) with possibility of lowering speed smooth controlling
Arm position storage function
Vice jaws hydraulic control
Band cleaning brush
Cooling system
Bimetallic blade.
EC Declaration of Conformity
Technical and Operational Documentation
Основные атрибуты
Состояние
Новое
Тип управления
Полуавтоматическое